Thanks to the folks at Utah's ELS Productions, we're offering the most unusual CD format we've ever seen. The new limited-edition There Is No Sin CD was our first offering with this super-granola packing.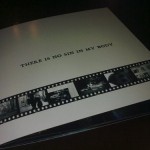 No plastic is used on the inside. The packages are lighter and ship cleaner. The entire thing is recyclable and mostly made of recycled material (except for a tiny foam dot). Of course, the CD can't be recycled…but why would you want to do that?
For this limited edition edition, we're wrapping these puppies in a black envelope with custom labeling on the outside. Very handmade. Impress your friends.