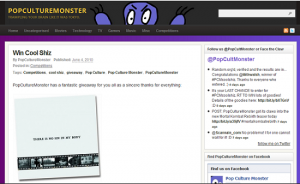 Clip Records and There Is No Sin recently teamed up with the entertainment site, Pop Culture Monster. The Irish website featured a promotion where they offered participants a package of items from Clip Records, There Is No Sin, the Fake Comedian podcast and The Snug, a pub in Portland, Maine.
"They wanted some things as in incentive to get people to promote the site. We stacked up a bunch of things…CDs of our friends, t-shirts, books, one of the last limited-edition copies of our first CD…it was an odd assortment of stuff," Troy of There Is No Sin said.
The site offers a variety of entertainment news, reviews and interviews. It's one of our favorites. Great for those trying to find out what's happening across the pond.